Sat, 01 Mar 2003
Mac OS X tool: Sciral Consistency
Sciral Consistency is a tool for reminding you to do things semi-regularly. For example, I want to check my Junk mailbox every three to nine days to see if my spam filter filtered out anything important. Every one to twenty days, I want to do something that improves my computing environment. Consistency reminds me to do those kinds of things through a display that looks like this: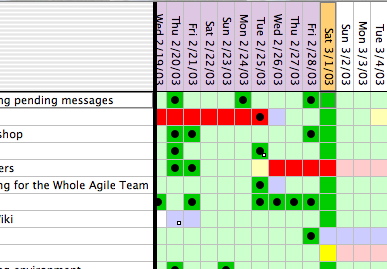 That display is always visible on my left-most screen (of three). Each row is a task. You can see parts of some of the task names on the left. Each column is a day. Every so often, I'll glance at the display, focusing on today's column (the one with the brown heading). If I see red cells, I know I'm overdue for that task. Green cells are tasks I might do today or put off until later. Yellow cells mark my last chance: tomorrow, the cell will be red. Blue means that it's not time to do the task again yet.
The display of the past lets me know how well I'm keeping up with the things I want to do. As you can see, I slipped recently (a long consulting trip and some rush projects just after it).
It's really quite simple and surprisingly effective. Well worth $25.