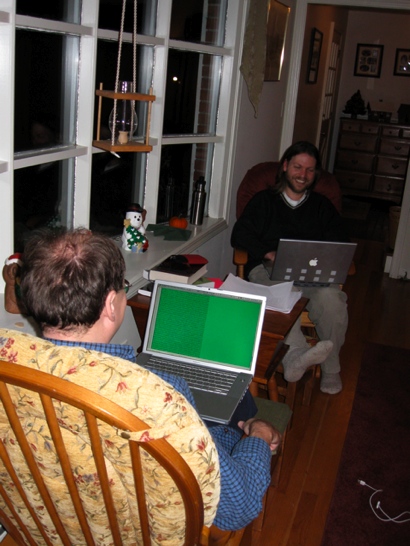 Corey Haines is making a tour of the US Midwest, pairing with people. I was happy to host him for the past two days. He introduced me to a style of pairing I'd never done before. What you see on the right is how we worked the whole time, each with our laptop, sharing the screen (via iChat).
I found myself preferring this style to pairing side-by-side in front of a screen. I even prefer it to sitting in front of two side-by-side screens with two keyboards. The work is more free-flowing and conversational. It's easier to note the other person's body language. It's easier to stop coding, look up, and talk to each other. I found the switching between people more fluid, with fewer episodes where we were both going for the cursor at the same time.
On the downside: it may be a little harder to make sure that one one of you is filling the "navigator" role—stepping back and keeping track of the big picture. But I find that's hard to ensure in any case.
I recommend you give it a try.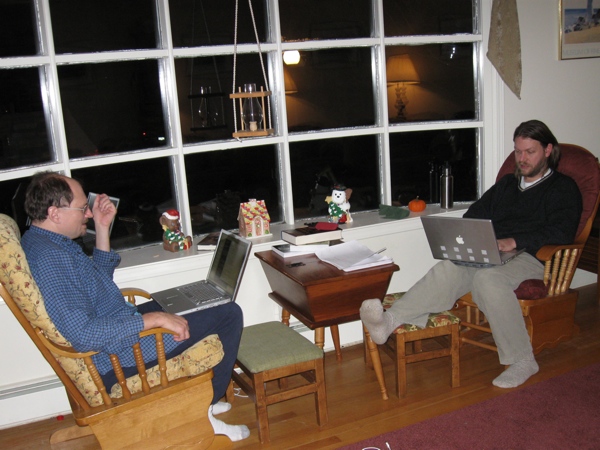 (The chair on the left, by the way, is where I do most all of my work. I recommend big bay windows with smallish panes for all kinds of hands-at-keyboard work, especially if you live on a nice old brick street with big trees.)