Bruce Daley posts on how most humans are biased to think they're less error-prone than they are. As far as I know, that's a claim solidly based in empirical research. (See also Bruce Schneier's The Psychology of Security.) From this, he concludes:
Given the nature of their work, software developers and software programmers suffer more from the illusion of knowledge and the illusion of control than most other professions, making them particularly subject to over-looking mistakes in their own code. Which is why software needs to be tested independently.
However. Consider the graph below.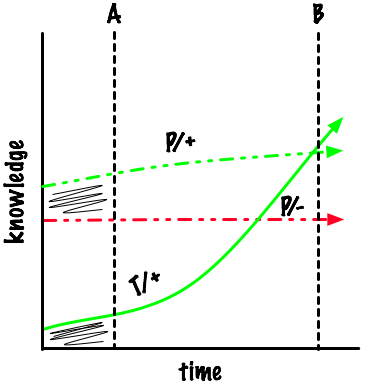 Here, the programmer and independent tester start testing at the same time. (Bad programmer! Bad!) The programmer starts out with more knowledge of the app than the tester (the line marked P/+), but she also has a large amount of cognitive bias (P/-) and lacks testing skill. That makes her miss bugs her knowledge would otherwise allow her to find (the area under the red line). Moveover, her biases seem to be pretty impervious to evidence.
The tester starts out with less knowledge, but has no (relevant) cognitive biases at all. Also, his testing skill lets him ramp up his bug finding pretty fast—but it still takes him a while to overcome her advantage.
Which do you want doing the testing? If you're shipping at time A, it looks like the programmer has the edge. (Compare the shaded areas under the curve.)
We could expect that advantage to erode over time. If the ship date is farther out, the independent tester would have an advantage, as this graph shows: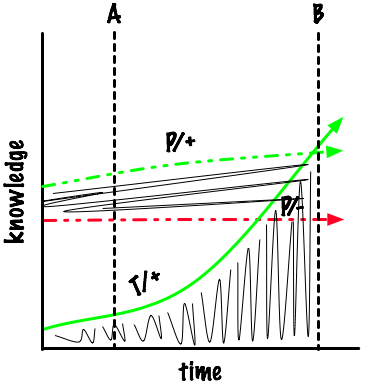 Even when all that matters is bug count, the decision is not straightforward, especially since it's based on information you can't know until after you've decided. (How long will it take the tester to get up to speed? How many and what kind of bugs will the programmer miss?)
On most projects, there are lots of other factors to consider.
So I encourage people not to make the assertion the post's author does.